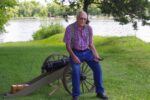 Harold Paul Reardon
January 11, 2022
Harold Paul Reardon, age 93 of Waverly passed away on Tuesday, January 11, 2022. He was born August 29, 1928 to Charles and Adelaide (Claessen) Reardon in Marysville Township, Minnesota.
In 1951, Harold was inducted in the US Army and was Honorably Discharged at the rank of Sergeant First Class. He was a 50 years member of the American Legion.
Harold was united in marriage to Rita Loebertmann on September 24, 1951. They were blessed with two sons, Paul and Peter. He was a lifelong member of St. Mary's Church in Waverly.
Harold retired in 1990 after a long career as a precision machinist and continued machining parts in his garage for local friends and farmers. On October 3, 1990 he married Patricia Luhman.
Harold enjoyed the outdoors, fishing, hunting, woodcutting, and snowmobiling. He was a founding member of the Waverly Snowmobile Club and instrumental in starting the Waverly Gun Club. He received recognition for 40 years as a Safety Training Instructor and Life Member of the NRA. He was an avid trap shooter and black powder enthusiast.
Harold was preceded in death by his spouses Rita and Patricia; stepson Brian Luhman; siblings Robert Reardon, Jeanne (Herman) Painschab, Joseph (Mary Ellen) Reardon, Teresa (Joseph) Zeleny, Anita Ostman, and Dennis (Rosie) Reardon. He is survived by his sons Paul (Colleen) Reardon and Peter (Brenda) Reardon; step children Debbie (Bruce) Salonek, Julie (Kym) Clark, and Joleen Luhman; 11 grandchildren John Reardon, Molly Reardon, David (Debbie) Reardon, Patrick (Alicia) Reardon, Christopher Copeland-Waight, Chloe Waight, Mitchell (Jessica) Clark, Morgan Clark, Katelyn Luhman, Eric Luhman, and Brandon Luhman; 3 great grandchildren Thomas, Benjamin and Emilyn Reardon; siblings, Mary (Don) Klingelhoets, and Bernadette "Berni" Reardon; and many nieces, nephews, other relatives, and friends.
Mass of Christian Burial was held at 10:30 AM on Saturday, January 15, 2022 at the Church of St. Mary in Waverly. Visitation was on Friday from 4-8 PM with a 7:30 PM Prayer Service and continued Saturday 9-10:15 AM, prior to the Mass, all in the Parish Center of the Church of St. Mary. Interment with Military Honors by the Waverly American Legion Post 305 was in the church cemetery. Masks preferred.
In lieu of flowers, donations can be made to the Waverly American Legion Post 305.
The Mass was live-streamed through the link provided below: