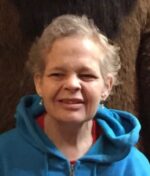 Janelle M. Van Lith
February 27, 2022
Janelle M. Van Lith, age 63 of Hopkins, formerly of Loretto, passed away on Sunday, February 27, 2022. She was born on April 12,1958 to Henry and Geri (Potvin) Van Lith in Loretto, Minnesota.
Janelle was full of life with a natural happy demeanor. She was a social butterfly; always had to be busy doing, going, planning, and being a part of things. She had energy abound and always with a smile on her face. She loved to travel and recently went to Colorado. Lunch with Rich and Jack at the Hopkins Barber Shop on Saturdays were a staple of her schedule.
Janelle was preceded in death by her parents Henry and Geri; sister Pam Matter; infant siblings Kenny and Mary Jo. She is survived by her siblings Jan (Penny), Michele (Tom), Linda (Greg), Lisa (Ron); and several nieces and nephews. Janelle was godmother to some but felt like she was godmother to all.
A special thank you to Mary and Peter of REM for the caring support of Janelle as well as the entire REM family.
The family would also like to thank the people from Meals on Wheels, REC, her Social Workers and all the other individuals that would look out for her. We also want to thank the first responders from the Hopkins Police Department and Fire Department for their compassion.
Mass of Christian Burial was held at 11 AM on Thursday, March 10, 2022 at Ss. Peter and Paul Catholic Church in Loretto. Visitation took place on Wednesday, from 4-8 PM with a 4:30 PM Rosary at the Iten Funeral Home in Delano. Visitation continued Thursday 10-11 AM prior to the Mass at the church. Interment was in the church cemetery.
Lunch was served after the cemetery.
The Mass was live-streamed by the church, through the link provided below: