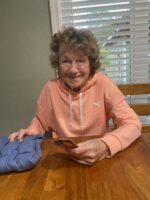 Jean Adele Olson (Heitkamp)
August 25th, 2022
Jean Adele (Heitkamp), age 99 formerly of Waconia, passed away in Kenmore, Washington on August 25, 2022. She was born on July 22nd, 1923 to Frank and Grace (Tripp) Heitkamp in Worthington, Minnesota.
Preceded in death by her parents; husband Arthur; children Leonard Olson, Douglas Olson; grandchild James Olson; great-great granddaughter Erica Olson; five sisters and two brothers.
Adele is survived by her daughter Vicky Jean Olson; 8 grandchildren 26 great-grandchildren, and 8 great-great grandchildren; daughter-in-law Bonnie Olson; siblings Jack (Joyce) Heitkamp, Beth Wentland; and sister-in-law Blanche Heitkamp.
A memorial service was held at 1 PM on October 7th, 2022 at Faith Lutheran Church in Waconia, Minnesota. A private family inurnment took place at Fort Snelling National Cemetery. In lieu of flowers, memorials preferred to St. Jude Childrens Hospital.