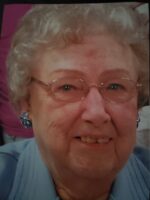 Lorraine Schaust
May 5, 2021
Lorraine Catherine Schaust age 92 of Delano passed away on Wednesday, May 5, 2021 at Good Samaritan in Waconia. She was born July 6, 1928 to John P. and Angeline P. (Dunn) Kittock in Watertown, Minnesota.
Lorraine was a loving mother, grandmother and great grandmother. She was preceded in death by her husband Joe of 67 years; son Joe and a grandson Craig Peterson; brother Ray (Bernice) Kittock, and sister Kitty (Martin) Van Lith. She is survived by her children Mary Peterson, Pat Honebrink, Tom (Marlene) Schaust, Rick (Tammy) Schaust, Larry (Joyce) Schaust, Vicki Schaust; 16 grandchildren; many great grandchildren; sisters-in-law Deloris Schaust, Arlene Litfin, Jean Farniok, Estelle Schaust; as well as many nieces, nephews, cousins and friends.
Mass of Christian Burial was held at 11 a.m. on Tuesday, May 11, 2021 at St. Maximilian Kolbe Catholic Church, St. Peter's Campus in Delano, Minnesota. Visitation took place from 4 to 8 p.m. on Monday at the Iten Funeral Home in Delano, Minnesota. Visitation continued on Tuesday from 9:30 to 10:30 a.m. at the funeral home prior to leaving for Mass. Interment was in the Calvary Cemetery in Delano, Minnesota.