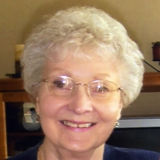 Mary Louise Sladek
September 6, 2018
Mary Louise Sladek, age 88, of Delano, formerly of Wayzata, passed away peacefully surrounded by family on Thursday, September 6, 2018. She was born on August 29, 1930 to John and Sigrid (Wicklund) Jelinski in Ironwood, Michigan.
Mary Lou received her R.N. degree in 1951 from St. Mary's School of Nursing in Minneapolis. She was a member of the Red Hats club. Mary Lou's greatest joy was spending time with her family. She enjoyed socializing with the friends she made in her neighborhood and at the Senior Center. She also was known for giving away slippers that she had knitted.
Mary Lou was preceded in death by her parents, Sigrid and John Jelinski; husband, Richard (Dick) Sladek; sister, Ann Crisp, and grandson, John Chelgren. She is survived by 7 children: daughters, Susan (Dennis) Chelgren, Cynthia (Marty) Berg, and Mary Beth (Thomas) Gaines; sons, Daniel, David "Buzz" (Kathleen), Richard (Mary), and Paul (Cheryl); sister, Margie (Duane) Herold. Mary Lou was also "Grandma Lou" to nine grandchildren: Moriah, Samantha, Allison, Sally (Pete) Claassen, Somer, Trevon, Luke, Madeline, and Nathan; and two great grandchildren, Mei and Helena.
A Memorial Mass of Christian Burial was held at 11 AM on Tuesday, September 11, 2018 with a gathering of family and friends from 9:30 – 11 AM, prior to the Mass, at St. Joseph Catholic Church in Delano. A lunch followed the Mass. A private inurnment was in the St. Wenceslaus Catholic Cemetery in New Prague.
A Special thanks to the staff at Westwood Assisted Living for the love and care you provided Mary Lou these past 4 years. In lieu of flowers, memorials preferred.