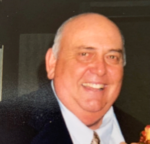 Michael Mika
December 22, 2020
Michael James Mika age 75, of Independence, MN passed away on Tuesday December 22, 2020 at home with his loving wife Mary Mika by his side.
A Mass of Christian Burial observing COVID restrictions will take place at 11am Wednesday December 30, 2020, at the Church of St. Maximilian Kolbe (St. Peter Campus), Delano. For those that wish to attend please rsvp to MC71911@gmail.com. Memorials may be sent to the Sinsinawa Dominicans and Hospice of Dubuque.
Mike was born on March 15, 1945 in Minneapolis, MN. The son of John (Jack) and Ruth (Bechtle) Mika. Mike graduated from Benilde St. Margarets High School in 1963 and attended the University of St. Thomas, where he was enrolled in U.S. Air Force Reserve Officer Training Program (ROTC) program.
Mike was an entrepreneur at heart and ran and operated several successful businesses, including Custom Products and Services in Minneapolis. He was active in the Holy Rosary Parish and was one of the founders of the Minneapolis Coalition for the Homeless where he spent many nights in the School Basement supervising and feeding the less fortunate. He was also a board member of the Lake Street Council. Mike was involved in politics and worked on such campaigns as Walter Judd, Zollie Green and Arne Carlson.
Mike was united in marriage to Mary Mika (Hughes) October 1, 1966 at Holy Rosary Catholic Church in Minneapolis, MN.
Mike was a hard working, generous, kindhearted man. His hard work and generosity touched the lives of family, friends and strangers alike. He was a loving husband, father, grandfather, brother, uncle and friend to many. Mike loved to tell a good story and treasured his time sharing his stories with family and friends. Mike was a skilled orator and was the voice of the Mika Family history, an oral history that helped shape the lives of his children. Mike loved a great polka band, classic cars, live auctions, a good joke and was a huge fan of Minnesota high school, college and professional sports teams, particularly the Minnesota Twins and the Minnesota Vikings. Mike shared his time with family and friends at various sports venues, the Minnesota State Fair and local restaurants, where he always picked up the tab. Mike's favorite place on Earth was to be at home with family on the Mika farm, where he was blessed to pass peacefully, in his sleep.
Mike was preceded in death by his parents John & Ruth, brother Don (Jeanne), and sister Joan. He is survived by his loving wife of 54 years Mary; children John (Jeanette), Michelle (John), James (Katie), and Catherine; grandchildren Jack and Joe Blanchard, Dylan and Kari Mika, Alex, Henry and Arthur Mika; Nieces Sister Debra Mika of the Sinsinawa Dominicans of Dubuque and Joaneva Heidleburger; Nephews Ted Mika and John Heidleburger.
A video of the Mass can be found on the Iten Funeral Home YouTube page, or through the link provided below: