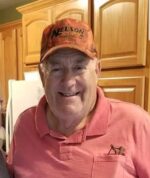 Richard Roy Lysne
March 16, 2022
Richard Roy Lysne age 74 of Dalton, formerly of Delano passed away on Wednesday, March 16, 2022. He was born January 3, 1948 to Louella and Norman Lysne in Fergus Falls, Minnesota.
Richard was a loving husband, father, grandfather, great grandfather, brother, uncle and friend. Things he loved most in life were his family, his farm and everything about it. If he could mow his lawn twice in one week, he was the happiest. Snowmobile trips with family were a tradition. Grandpa Rick always enjoyed nap time with his grandkids. Rick and Kris enjoyed road trips to various states and spending their winters in Arizona. Deer camp on the family farm was a staple and continues to be a family tradition.
Richard served his country in the Army, being Honorably Discharged in September of 1969 at the rank of Sergeant. He went on to a career in computers, working mainly on mainframe systems.
Richard was preceded in death by his first wife Jan in November of 2003; his parents Louella and Norman Lysne and his brother Davey Lysne. He is survived by his wife Kristine; children Lori (Peter) Klein; Dan (Missy) Lysne; 6 grandchildren Douglas Dobbelaire, Logan Dobbelaire, Nathan Lysne, Kayla Lysne, Ali Lysne, and Hailey Lysne; 3 great grandchildren Brody Dobbelaire, Lorelai Dobbelaire and Bexley Beals; siblings LeRoy (Janet) Lysne, Sandy (Mike) Oak, Dennis Lysne, David Lysne, Norma "Punki" Loomer, Vicki (Steve) Scheer and Steve Lysne; as well as many nieces, nephews, cousins and friends.
Gathering of family and friends was held starting at 3 p.m., with a memorial service at 5 p.m. on Sunday, March 27, 2022 at the Iten Funeral Chapel in Delano, Minnesota. Inurnment with military honors was in the Ft. Snelling National Cemetery in Minneapolis, Minnesota meeting at Assembly Area #2 at 9:45 a.m. on Monday, March 28, 2022.
The memorial service was live-streamed through the link provided below: