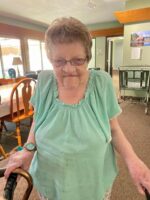 Sharon Kaiser
September 6, 2022
On Tuesday, September 6, 2022, Sharon Margaret Kaiser, a loving sister and aunt passed away at age 75. Sharon was born on May 23, 1947 in Watertown, Minnesota to Monica (Pillatzke) and George Kaiser. She grew up on a beautiful farm with her parents and older sister Marcy. She resided in Delano her entire life.
Sharon was known for her amazing memory and thoughtful listening. She was the keeper of all stories and secrets of the past. She had an infectious giggle and loved to be with her family, cousins, friends and beautiful cat, Cali.
You could always bring a smile to her face with a Reese's Peanut Butter Cup, an Elvis calendar or anything cat-related. She relished in flashy jewelry and loved getting her hair done. In her younger years she enjoyed walking around Delano and visiting her family cabin in Crosslake, MN. In her older years, she had a wonderful community at her apartment complex and lived simply connecting with her friends and spending her days with Cali the cat. She was deeply loved by her friends and family and will be extremely missed.
Sharon is survived by her sister, Marcy VanBeusekom (Kaiser); niece Cindi (Karston) Anderson; Great nieces and nephews Karrah (Alec), Whitney (Tom), and Kyler (Stephanie); Great-great nephews Teddy and Elliot; as well as many cousins and friends.
Sharon was preceded in death by her parents, Monica (Pillatzke) and George Kaiser and brother-in-law, Karl VanBeusekom.
Memorial Mass of Christian Burial was held Friday, September 23, 2022 at 11 a.m. at St. Maximilian Kolbe Catholic Church, St. Peter's campus. Gathering of family and friends was held for 1 hour prior to services from 10 to 11 a.m. in St. Martha's Hall of the St. Peter campus. Inurnment was in the Calvary Cemetery in Delano, Minnesota.