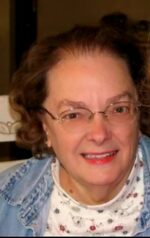 Shirley A. Schmidt
April 2nd, 2022
Shirley Ann Schmidt age 75 of Delano passed away on Saturday, April 2, 2022. She was born February 1, 1947 to Wesley and Teresa Coyer.
Shirley was a loving wife, mother, grandmother, sister, aunt and friend. She grew up in Glenwood, Minnesota and graduated from Minnewaska Area High School in the mid 1960's. Shirley was united in marriage to Roger Schmidt in November of 1967 and they made their home in Litchfield and Howard Lake before settling in Delano in 1980. Three sons were blessed to this union.
Shirley was preceded in death by her husband Roger; sons Richard and Paul; her parents Wesley and Teresa Coyer; brothers Irvin Coyer and Lester Coyer; sister Dorothy Graphenteen. She is survived by her son Rodney (Tammy) Schmidt; grandchildren Cory Schmidt, Jessica Schmidt, Zachary Schmidt, Reed Schmidt, and Rilie Schmidt; sister Rosemary Ripple; daughter-in-law Lisa Schmidt.
Visitation was held on Wednesday, April 6, 2022 from 6 to 8 p.m. at the Iten Funeral Home in Delano, Minnesota. Private family interment services were held on Friday, April 8, 2022 at 10 a.m. at Ripley Cemetery in Litchfield, Minnesota.